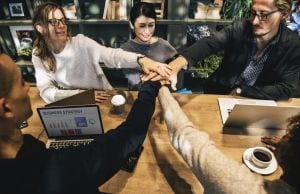 3 reasons why collaboration is essential for your business and your work.
New Year,  New resolution, New you, New Collaboration.
There is strength in collaboration and 2020 is going to be the year of Collaboration.
Here are 3 reasons why collaboration is essential for your business or your work
1) Nothing has ever been invented by one person alone.
Every successful man or woman have the support from family friends, colleagues, spouses, business partners in their lives. Being independent does not mean doing everything by yourself. If credit might be given to one person,  it actually appears that it is often the work of several others over a period time, like this controversial article on Edison.
When I was a teacher, I would dutifully go to my school/college/special needs school (yes I have worked in a lot of places!!), and follow the rhythm of events during the term ranging from Harvest, Christmas to Easter and so on.
Whilst working at Harlow college in early 2000's, I often went to see the secretaries for help on a range of tasks from; printing, editing, sorting, promoting a play, an art's evening and for other administrative tasks. I relied on their support, because I was not quite sure how to do any of these tasks myself. This felt normal to me. After all, my job was to teach, theirs was to support my work, for which I'll always be eternally grateful for. This is not the case when you run your business or you work in a small team!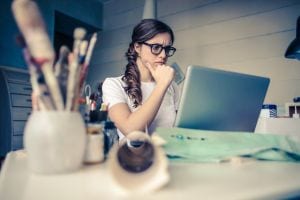 2) If you do everything yourself, overwhelm is likely to follow.
Have you experienced overwhelm?
When I officially left my career a few years ago to set up my own business, after the euphoria of creating my own "baby", I realised that all of what I had taken for granted now meant that if I wanted something done, I needed to act and, and whatever needed to be done myself!
Being proud, independent and an emancipated woman, it took me a long time to realise (and sometimes still does – ah ah!) how asking for help can sometimes be difficult, especially when you were brought up as a french girl in the legacy of  May 68  and what that does to you, more specifically around understanding that I could not do it on my own.
This business of mine was not going to fully happen without help. Armed with more wisdom and having done the donkey's work- can we consider a book to be the foundation of the work ? I decided that I needed some help. I reached out and magic started to happen.
3) What happens if you are ill? Have you thought about that one?
A spell of illness last year comforted my need for help. What happens when you are ill and run your own business? Not much I can tell you! You also lose momentum and energy about a bout of sickness and you may lose clients whilst being ill. The clock is ticking and the bank account emptying. Get support!
We are not equipped or skilled at everything, Let's acknowledge it, instead of going in denial and pretending to be good at everything. Let's be resourceful instead!
Help with putting in place a more serious marketing strategy: who says marketing is fun? It is if you like it. My idea of fun is to be in front of a group helping them to overcome their fears of speaking and helping them to realise and develop their own grandness. Not to spend all my time on social media or searching aimlessly online.
Now it is your turn.
What is collaboration for you? Can we realistically achieve anything on our own? Why is collaboration so important when you run your business or when you want to run a work project?
If you have a blog on collaboration and would like to present it to me, I would like to invite you as a guest blogger! Drop me a line at beconfident@helenemusso.com.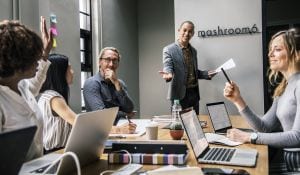 Helene is a dreamer, a poet, a trainer, a coach, a mother, a daughter.  She is passionate about helping others overcome their fears of speaking, in meetings, in social situations, in public and to speak up. She will help you to shape a presentation and to practice so that you can be your authentic self and speak from the heart. Find her on helenemusso.com. Book a discovery call. Buy her book and her online course here.