Public Speaking From The Heart: How to Conquer Your Fears of Public Speaking
Course Dates – To Be Confirmed
Introduction
There is so much mystery surrounding public speaking. The course aims to make public speaking simple and to develop your confidence in speaking in front of others for presentations, public speaking, in meetings, in social gathering and at home.
There are no requirements to the course but a willingness to engage with it and to prepare to take some risks in a supportive environment.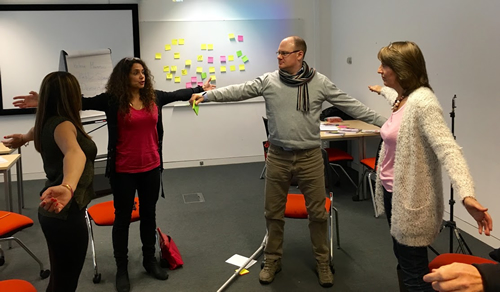 Who is it for?
All Individuals willing to overcome their fears of speaking in public.




Women and men in employment, contemplating self-employment or in the early stages of their business

Middle managers who are being or wanting to be promoted and will have to present and lead a team

Foreign nationals speaking English as a second language
My promise is
An interactive and engaging courses, no stuffy talking about presentation skills!
You will discover why it is essential to have a voice, for your business/ work and in your life.
Small number so you have time to practise and you are working in a safe environment.
Best tips to shift your fear based mindset into a positive and assertive one.
Why practice means perfect or close to it!
An experienced trainer and facilitator who values everyone's contribution, moi! I have years of teaching and training behind me. I am very enthusiastic and passionate, maybe due to my French background! I suppose I bring un petit je ne sais quoi to the mix.
"It was very interactive and energizing course. Helene created positive and friendly atmosphere which helped me to feel safe. I'm glad I joined the workshop and I'll recommend to anyone who would like to improve his confidence.
By the way, you've mention that I'll see the gradual improvement. I think I started to see the results now:) I went for some birthday party just after Christmas where I knew one person and briefly one couple (it was about 30 people in different age). I was quite calm and confident I have to say:) Very unusual for me normally I would be stressed and would like to run away ASAP."