If you are looking for some type of confidence coaching or maybe to improve your communication skills or speaking in public and you cannot find the exact course you are seeking, then I can offer you a bespoke training program tailored to your exact needs.  The type of program could cover a combination of the above and even some additional elements too. It maybe that you just need a few hours  or something longer working to a schedule. Some examples of the bespoke training I have run are covered below.
Communication development leading to enhanced collaboration
Anglia Ruskin University approached me to deliver some motivational workshops to over 100 staff who had been through a lot of change at the University. The changes at the University included system changes, increasing student levels and staff structure changes. So much to cope with at the same time causing some barriers in communication, difficulties in adapting quickly enough, understanding new responsibilities and other factors as well.
The workshop was scheduled to cover the whole day and was to be held at an off site venue at Manor of Grove Hotel, near Sawbrdgeworth, set in beautiful gardens. It was now my responsibility to plan and schedule the activities for the day to make sure we capitalised on the fabulous setting and achieved our joint target and goals for the day.
Please take the time to read more about this on my website on Anlia Ruskin Away Day. The day was a great success and this is what the University had to say….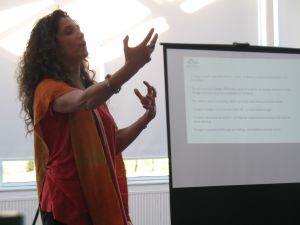 Helene ran a series of workshops for Anglia Ruskin Student Services on the 28th of January 2016 on Change management and Communication skills.
Hélène Musso successfully delivered motivational workshops to 100 of our staff members at our annual Away Day in January 2016. These workshops were very well received by staff, who confirmed that the main themes covered ("Change, and how to deal with it" & "How to interact with your colleagues") were highly relevant.
Hélène has a natural ability to lift peoples' spirits, taking them out of their comfort zones in an encouraging & constructive way.
Hélène is a passionate motivator & I would highly recommend her if you are looking for a high calibre professional to ignite confidence and encourage positive communication within your workforce.
Isabelle Cooke, PA, student services, Anglia Ruskin