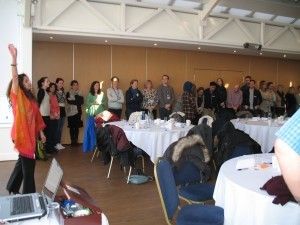 I was invited to deliver an  Away day  for Anglia Ruskin University Student Services staff, at The Manor of Grove Hotel,  near Sawbrdgeworth, set in beautiful gardens, a year ago.
The group consisted of around 100 people who worked across the three campus of Anglia Ruskin.  Many had never met, the common link being the University they worked for and the Student Services Department they belong too. There had been many changes taking place within their work which some had found difficult, my day with them was meant to offer motivational training in dealing with change, but also to acknowledge their hard work. I was excited by the challenge and wanted to make sure they were fully involved in a day organised for them.
We talked and played interactive games about communication skills and how to interact with others more effectively. We looked at strategies for dealing with change without falling back on jargon and enforcement of change as a fait accompli. Something being imposed on them rather than something that they are instrumental in and part of. Using the change Curve by devised in the 1960's by Elizabeth Kubler-Ross I was able to make change more approachable for all.
I began  work with the group by using some ice breaking activities which set a good tone for the day. The activities encouraged the groups of people to talk to one another and to explore some 'blue sky thinking'. There was a lot of laughter and good humour in the room which created a nice bond within the group. That session was followed by a presentation on how to get the most from yourself and from other people. It was an interactive exercise involving everyone moving around and talking to lots of different people. As there were members of staff from the Chelmsford and Cambridge campus this was the ideal opportunity for them to meet and talk to each other and not stick with their own cohort. The purpose of it was to help them to see things in a different and more positive way.
We also explored how managers can support their team during this transition, offering equal support to those members of staff enthusiastic to embrace new systems and those who are more cautious.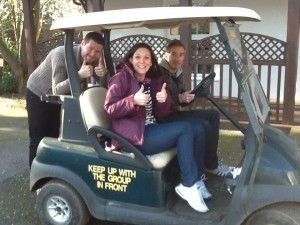 The staff were  ale to to also use their creative streak as they had to devise an "Art Gallery" . This idea was greeted with much enthusiasm and creativity. I strongly believe that people learn when they are able to engage with all of their senses.  By being able to see, feel, hear, and physically move around whilst creating in an atmosphere of togetherness.  It was important that people worked in groups to produce their own three dimensional interpretations, and to photograph each other's work, around the topic of inspiration.  It produced an amazing atmosphere of collaboration, some explored the grounds and found some quirky places to work.  The end result was a fantastic  portfolio which was collected together as a reminder of the day and created a real sense of collaboration and purpose.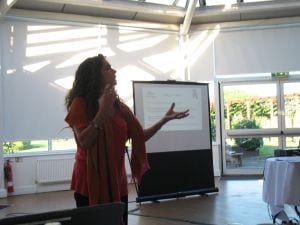 When I arrived at the venue it was so beautiful, a large airy room with large windows at the back looking onto wonderful gardens. Because the weather was so good I knew I would be able to run one of the activities outside as planned. My power points and notes were ready and in order.  Those who know of my Public Speaking courses will know that being well prepared is key to success.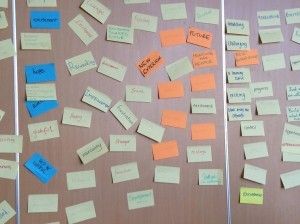 Throughout the day we had a reflective tool in the form of post it notes.  These allowed people to record their thoughts feelings and impressions anonymously as the day went along. Everyone was able to share their thoughts without fear of judgement or comment directed at themselves. This takes away the risk of anyone feeling bad or uneasy about their views being heard.  It is a safe way to express an opinion.  These were shared as part of a reflective process at the end of the day and as the day itself progressed.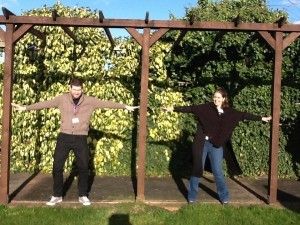 The most significant achievement of the group was the interaction between people who that morning had been strangers, the coming together of people whose only common link was their job description. The experience of them learning together, working together and enjoying the experience.
The day ended with the Vice Chancellor of Anglia Ruskin coming in to talk to the group about how change within universities are going to affect them and the impact this might have on them in their work. He also asked them to continue working with integrity and a sense of pride in delivering excellence through their work at the university. I thought this tied in very well with the work we had been doing throughout the day and made complete sense. Of course, my work was hypothetical, dealing with change in a general sense.  But here were the facts they would need to put into practice using the lessons of the day.
It was an amazingly powerful day.  Then suddenly it was all over!  I am very grateful to, and would like to thank, Isabelle Cook for giving me the opportunity to work with other companies.   I was delighted to be able to work with her and I really appreciated her time in agreeing to compile the photographs from the art gallery activity into a portfolio of the day.